| | |
| --- | --- |
| | The Forgetful Spuds |
We have been enjoying a fantastic start to the summer!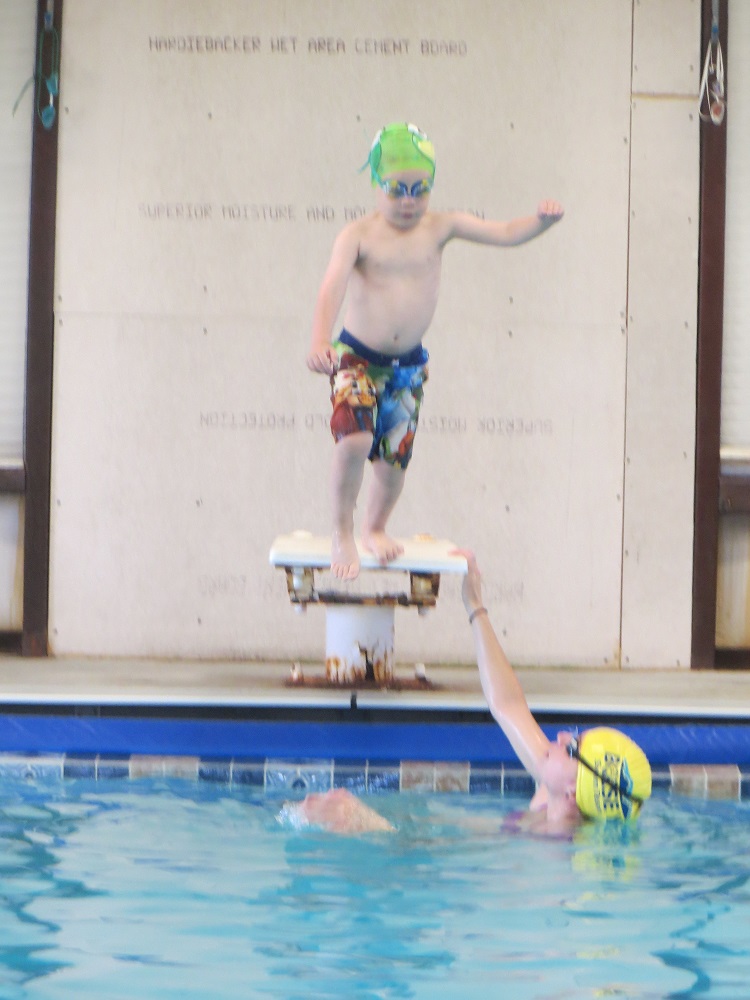 This summer the kids are taking private swim lessons. They are both doing a great job with improving their skills.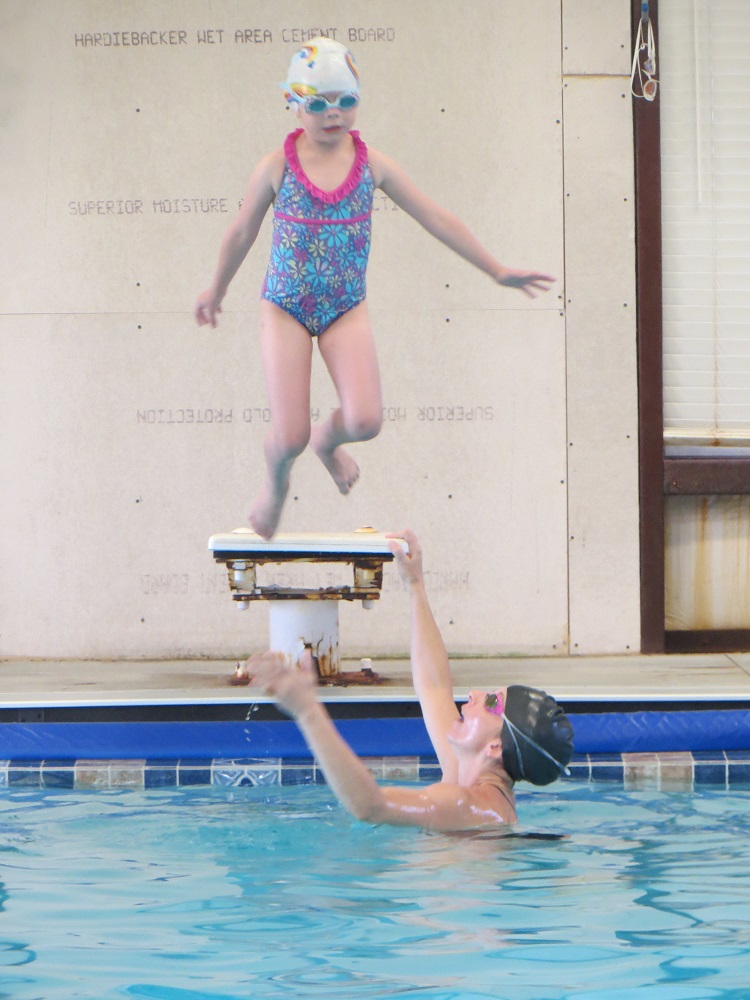 Anika is really making improvements in her swimming. She even loves the diving board now when it once scared her.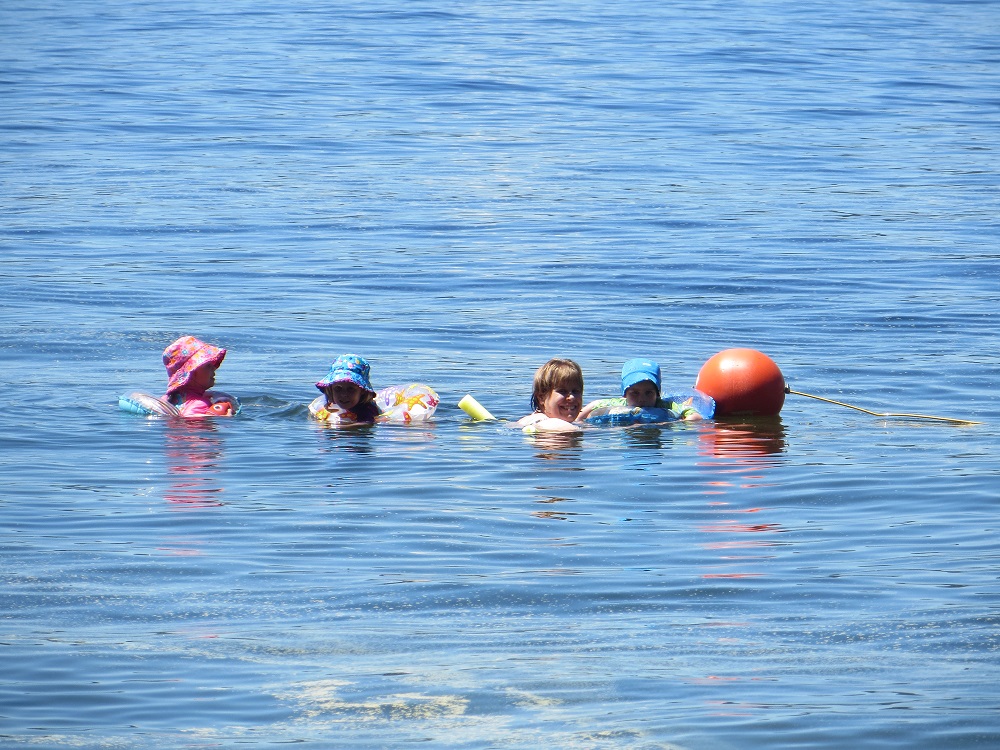 We went camping for a week with all of my siblings' families and my parents. It was a wonderful week full of lots of family fun. The kids loved playing in the sand and water at the lake. I even braved the water to swim out to the buoys with the kids. Here I am with Anika, Kaylee (my niece), and Conlin.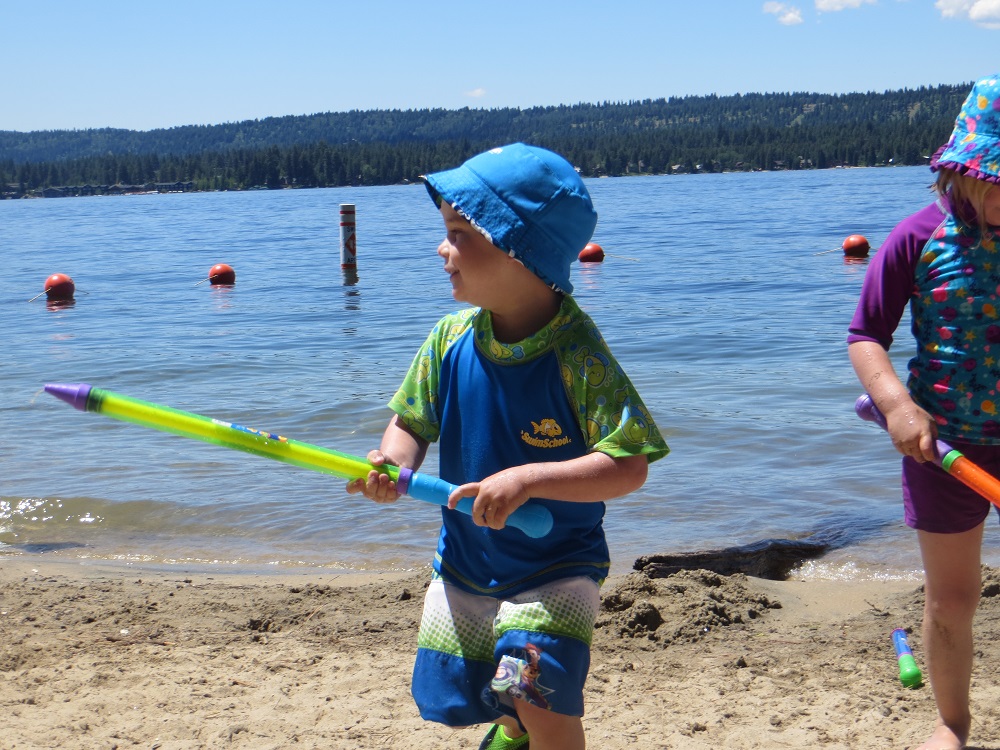 While Anika preferred to be swimming, Conlin preferred to spend his time with the water shooter. He thought it was great fun to shoot the adults that were willing to play!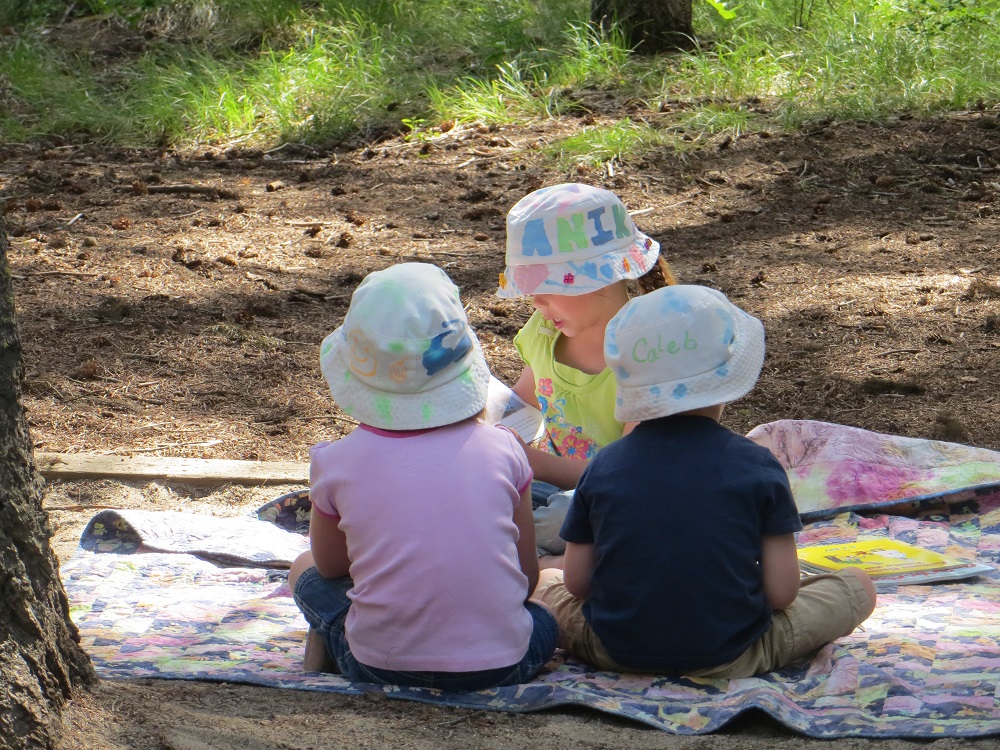 Anika loves to read and especially loves to read to other kids. She kept her cousins entertained for quite awhile!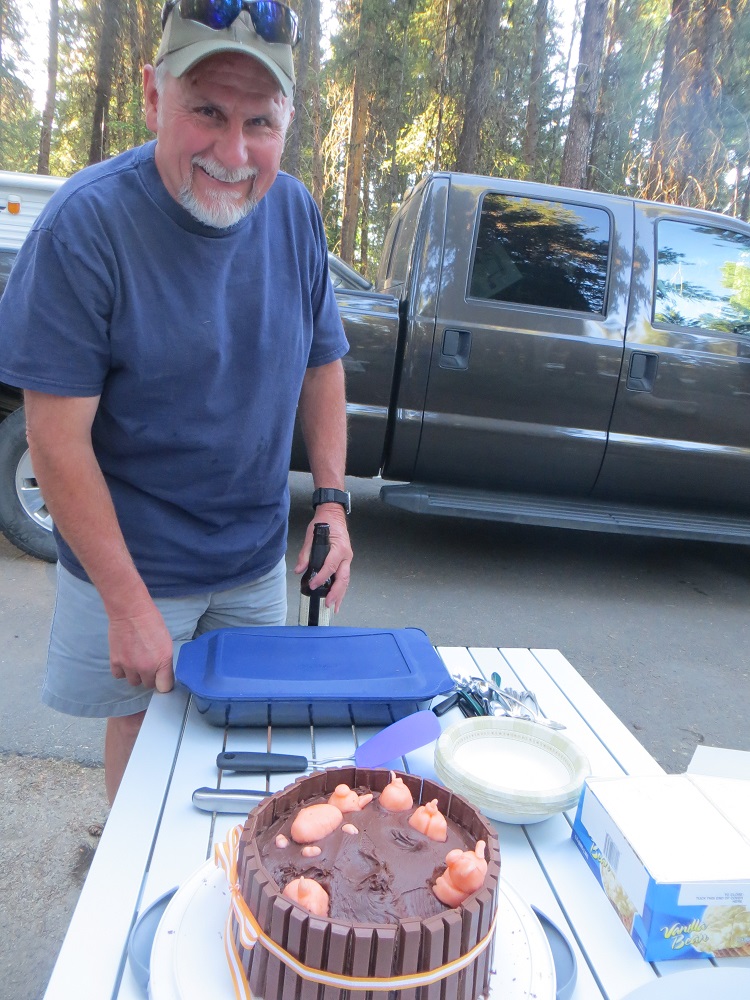 We had a lot to celebrate while we were all together. We celebrated the retirement of both Dad and Mom, their 62nd and 60th birthdays (respectively), and their 40th wedding anniversary! Everyone on pinterest has probably seen this cake. Since Dad loves pigs, I just had to give it a try. Dad loved it, too!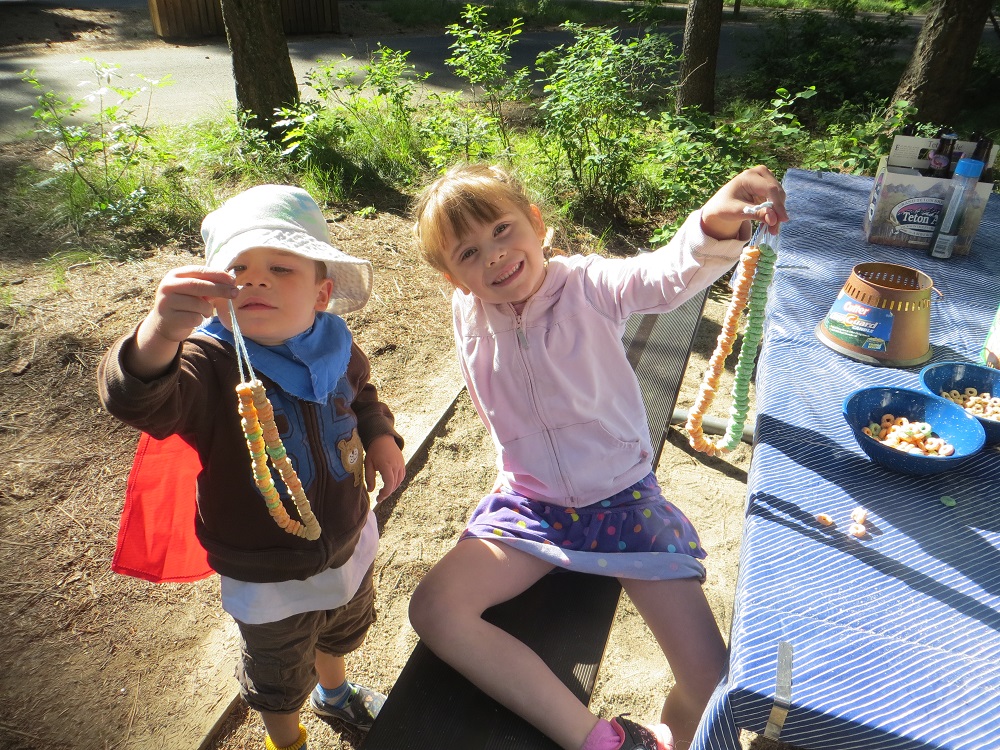 The kids were very excited to take some hikes while we were camping. They prepared themselves by making necklaces out of cereal to enjoy while walking. I think Conlin ate all of his before we even started walking!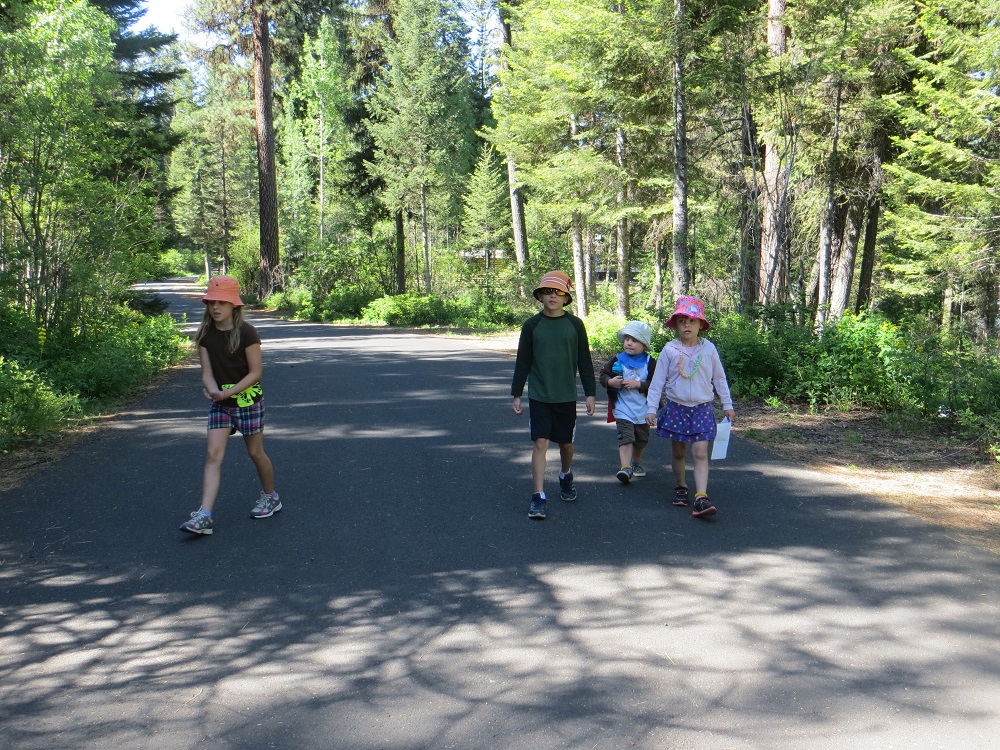 The first "hike" was actually more of a walk, but it was still fun. Here are the kids walking with their cousins, Reagan and Patton.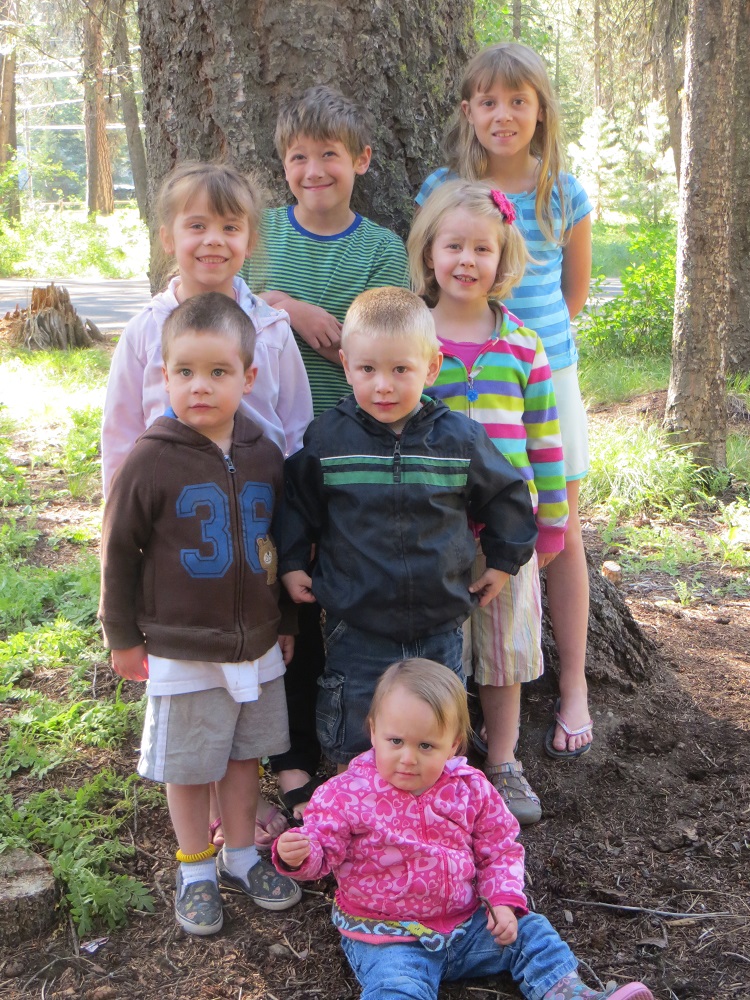 It was really fun to have all of the cousins together. They had a lot of fun riding bikes all around the campsite and playing games. We managed to get them all in once place for a picture. From the back, left to right:
Patton (7) Reagan (9)
Anika (6) Kaylee (4 1/2)
Conlin (4) Caleb (3)
Elliott ( 1 1/2)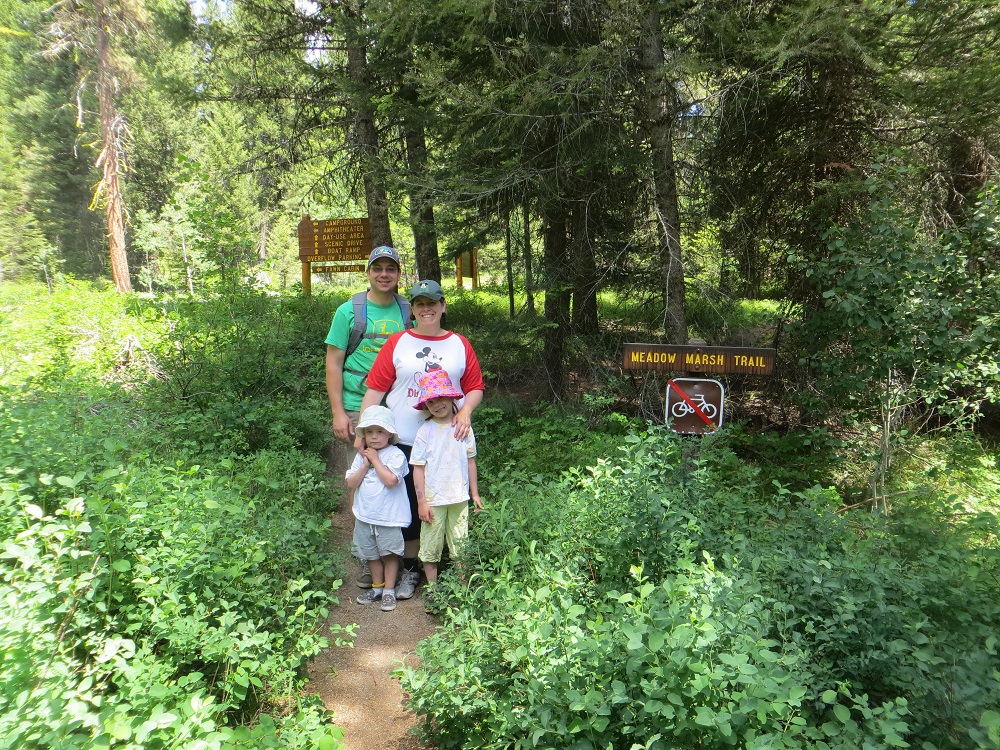 We took a hike to a marsh one of the days. It was a pretty easy hike so that the kids could do it as well. It was a nice morning as long as we kept moving to avoid the mosquitos!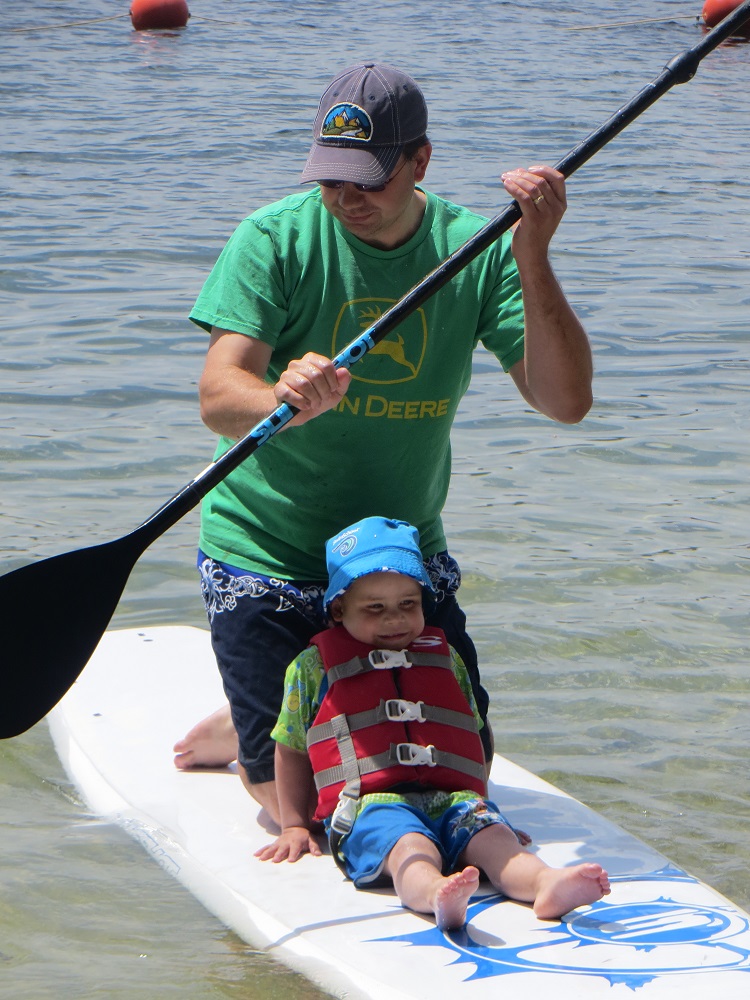 My brother and brother-in-law rented a paddle board and a canoe. Josh had really wanted to try paddle boarding, so he was excited to have the chance. It was a bit windy, so he didn't really trust himself to stand. Conlin enjoyed riding along with Daddy.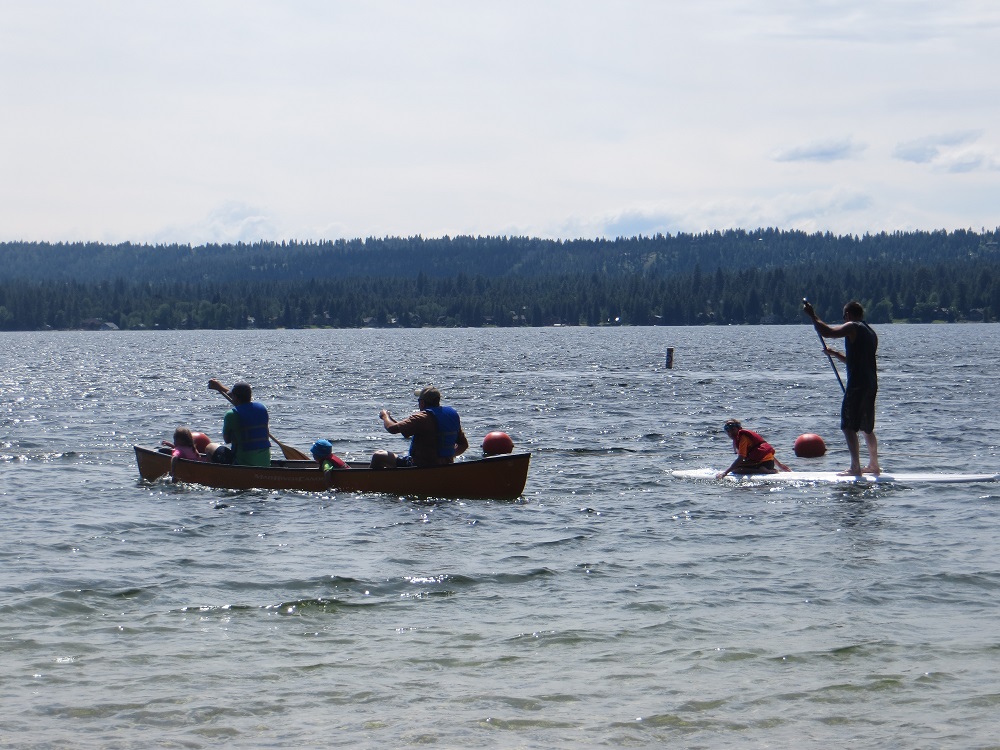 Anika and Conlin had their first experience in a canoe. They thought it was great! They were able to take a few rides with various adults. Here they are riding with Daddy and Poppa while Patton and Uncle Kevin follow along on the paddle board.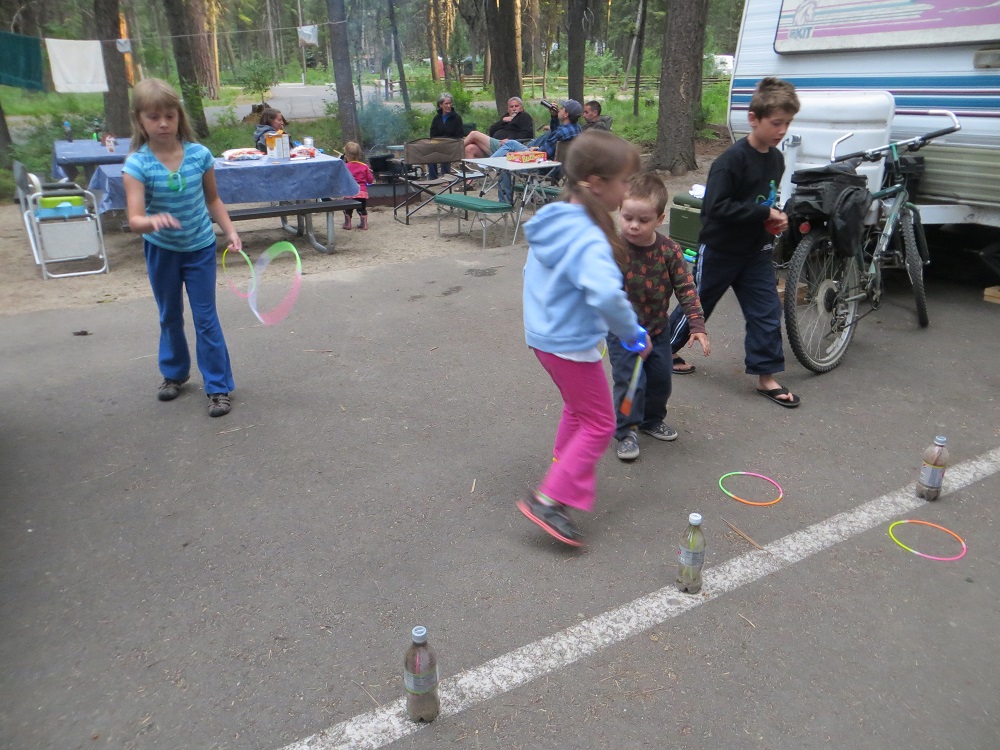 The kids were very excited to try out glow-in-the-dark ring toss with their cousins. Unfortunately, they were usually in bed before it really was dark enough to play. We finally just went ahead and did it one evening. They had fun even though it was hard to see the glowing.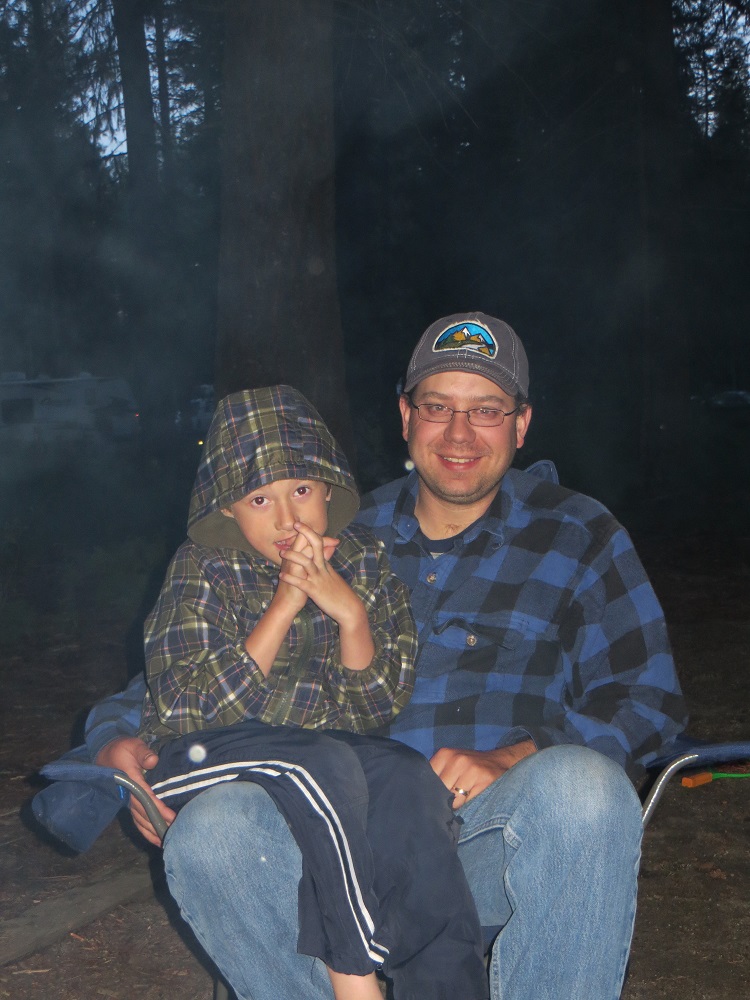 Even with chilly, rainy weather, we still had fun visiting around the campfire. The chairs were all damp, so Uncle Josh's lap made a better sitting spot for Patton!
On our last afternoon camping, Josh decided he wanted to take a mountain bike trail to the tip of the penninsula. Dad and Kevin immediately agreed to go while Mom agreed to watch the kids. I'm still not sure what I was thinking when I agreed to go. I've never mountain biked and the trail was an intermediate one! Plus, the trail was wet and muddy from the rain. I survived but not without multiple bruises! The drop-off behind me in this picture was also quite large (not that I'm scared of heights or anything). After all the work to get there, I had to peek (from a safe distance, of course) and get a picture. In order to survive the trip back, we took the gravel road instead of the trail (thank goodness!)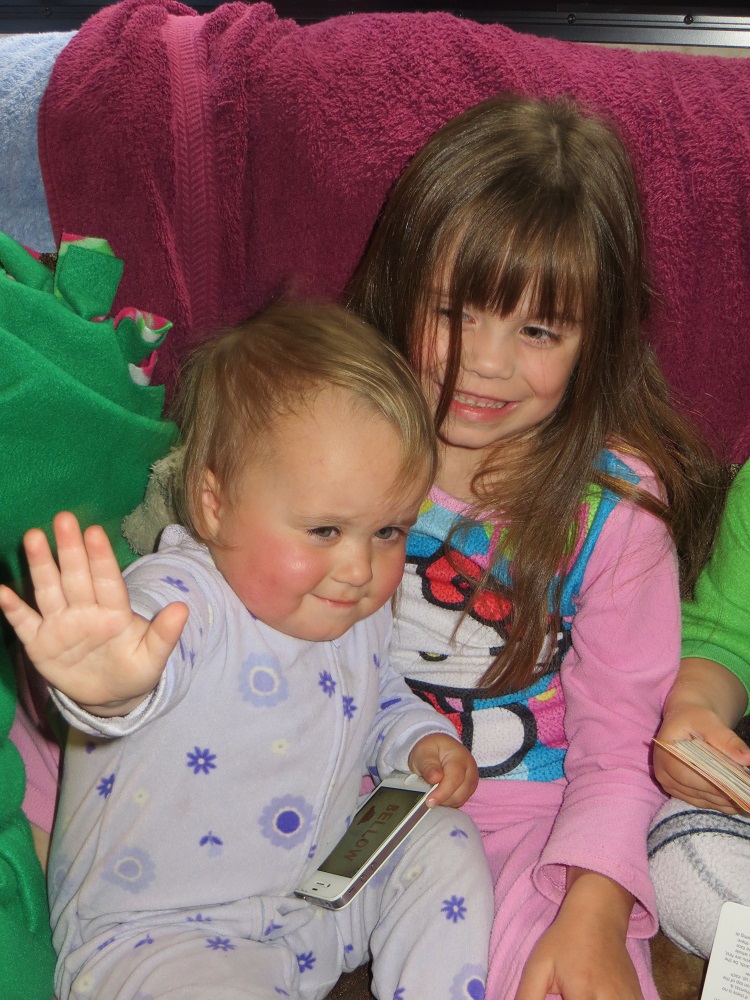 Anika loved playing with Elliott throughout the week. I think Elliott was telling me, "Enough with the pictures already, Aunt Sara!"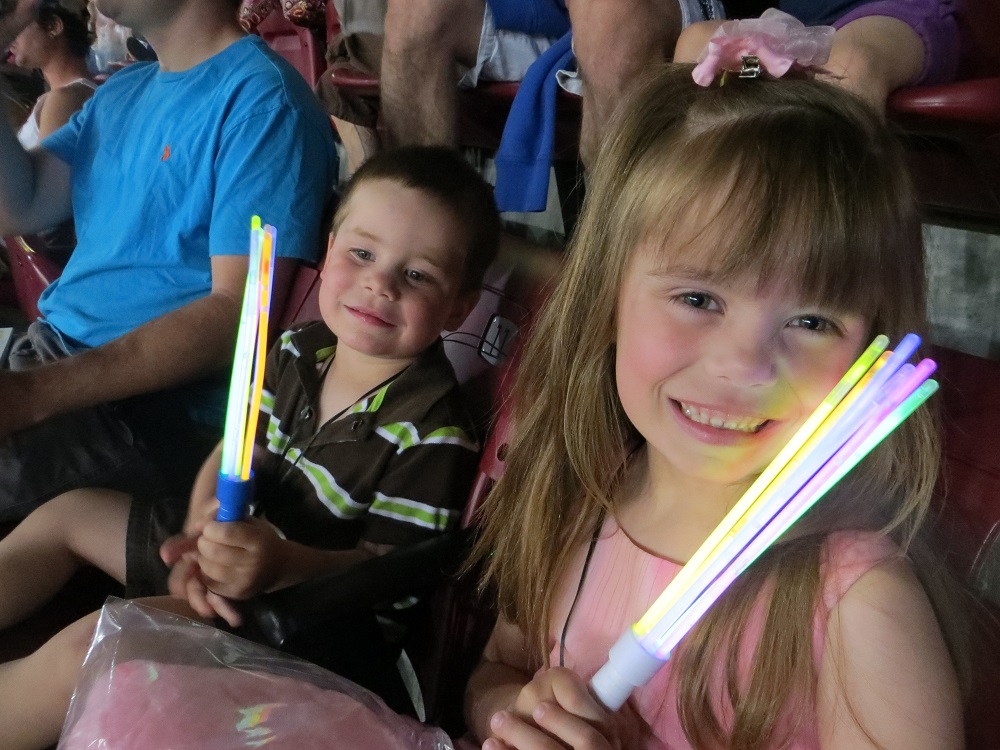 The day after our big camping adventure, we took the kids to the circus for the first time. They loved it all!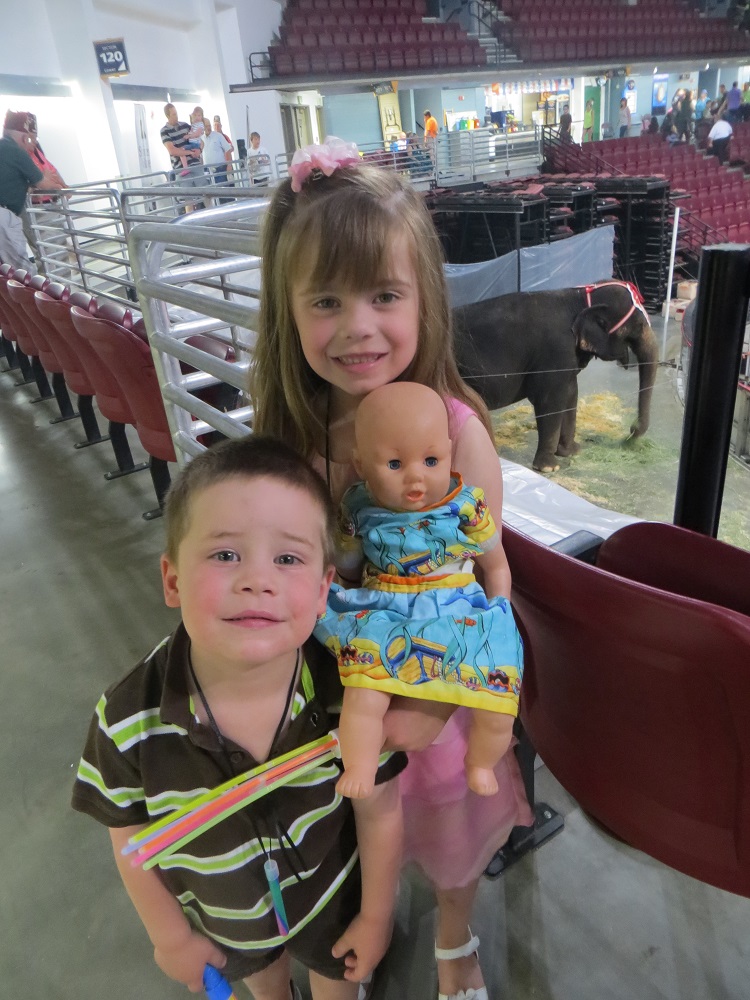 This was the first time the kids had seen an elephant. They thought this was close enough to the animal for them! I wasn't surprised that neither wanted to take a ride on one!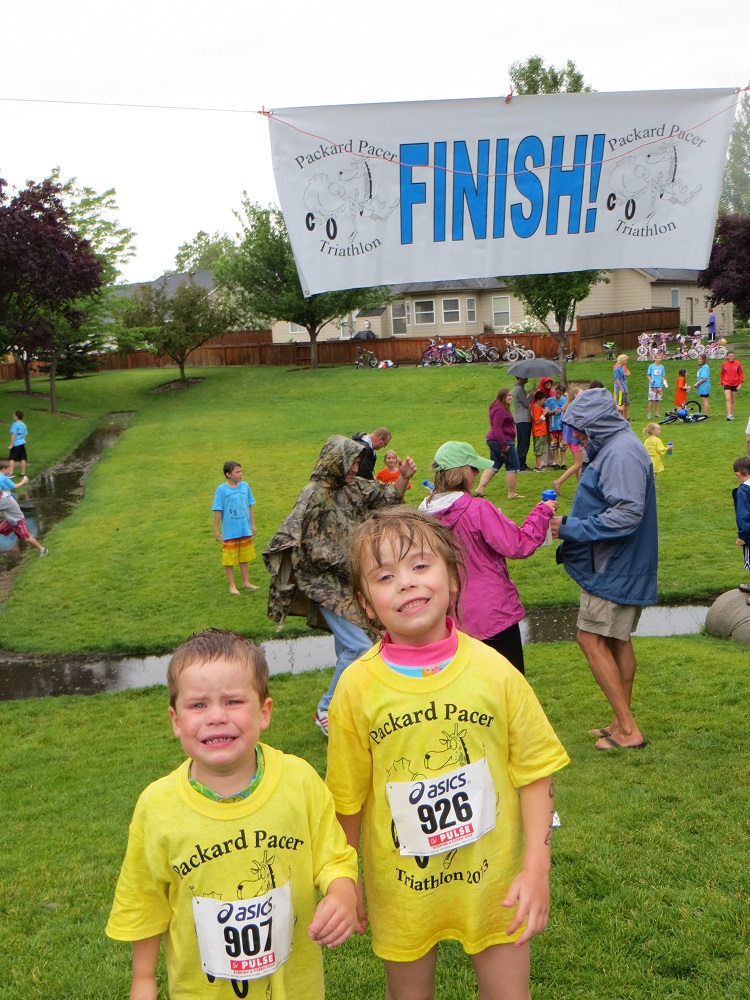 The kids participated in a local triathlon. It was Anika's third (but first with real swimming), and Conlin's first. Anika did an amazing job and completed the race completely by herself! Conlin isn't sure that this event is something he likes. He did love the bike race though!
Email us at forgetfulspuds@hotmail.com

Our Favorite Links
Carson's Gift
March of Dimes




This page handcrafted by Josh & Sara
Last Updated June 29, 2013